[IDC InfoBrief] Redefining customer engagement for a digital-first world: A look at the rise of audio/video consumption and real-time communication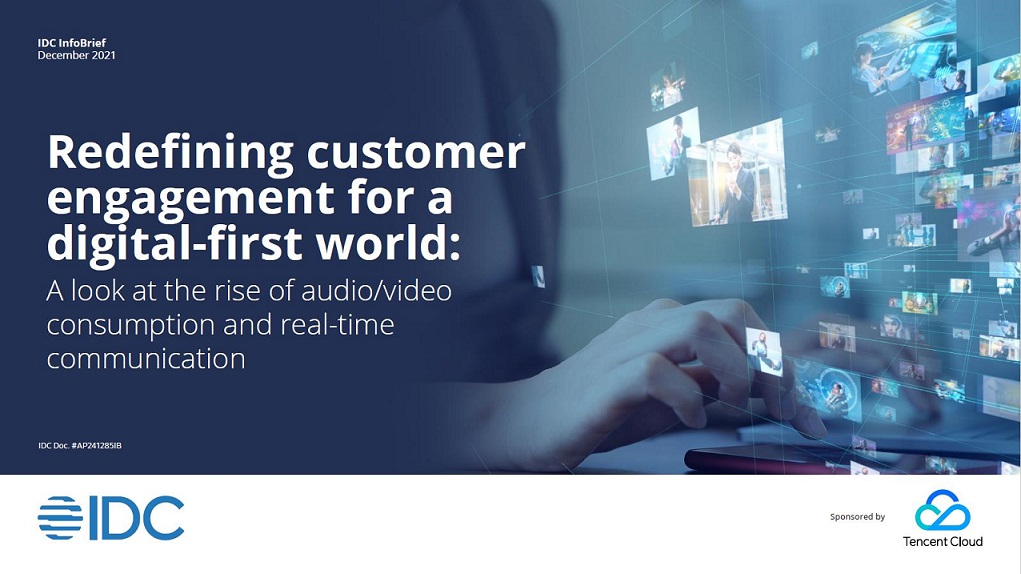 Digital-first customer engagement: from digitally-connected to real-time and interactive audio/video communications
The COVID-19 pandemic has brought major changes in consumer behavior. Lockdowns, restrictions to physical interactions, and a sudden switch to work from home have hastened the shift to digital platforms for many aspects of daily living – learning, working, shopping, banking, and entertaining. Staying connected, building communities, and getting things done through digital means have become a permanent fixture in a world increasingly defined by the pandemic.
With the gradual return to normalcy, consumers are anticipating a resumption of in-person interactions, but they also want the flexibility and convenience of "anywhere, anytime" experiences that they have become used to. We are shifting to a hybrid, digital-first paradigm, where consumers expect the best of both worlds — always-on accessibility and the dynamic, real-time nature of in-person exchanges. Organizations must be attuned to this trend and enable digital-first customer engagements that provide digitally-connected experiences with the same level of interactivity that in-person interfaces allow.
Audio/video media plays a key role in enabling such experiences, and around the world, multiple use cases are emerging across industries. Audio/video channels enabled with interactive capabilities allow for remote customer interactions while replicating that in-person, real-time conversational experience we are used to in the physical world. These channels also facilitate group interactions among the geographically dispersed by enabling simultaneous multi-user audio/visual communications.
Commissioned by Tencent Cloud, this IDC InfoBrief looks at how the shift to digital-first customer engagements is re-shaping the way audio/video is used in real-time communications, as well as their interactivity capabilities. It also provides guidance to organizations on the business and technology capabilities, and scalable infrastructure, needed to help them successfully deliver digital-first customer engagements.
Submit your information and download this InfoBrief now!